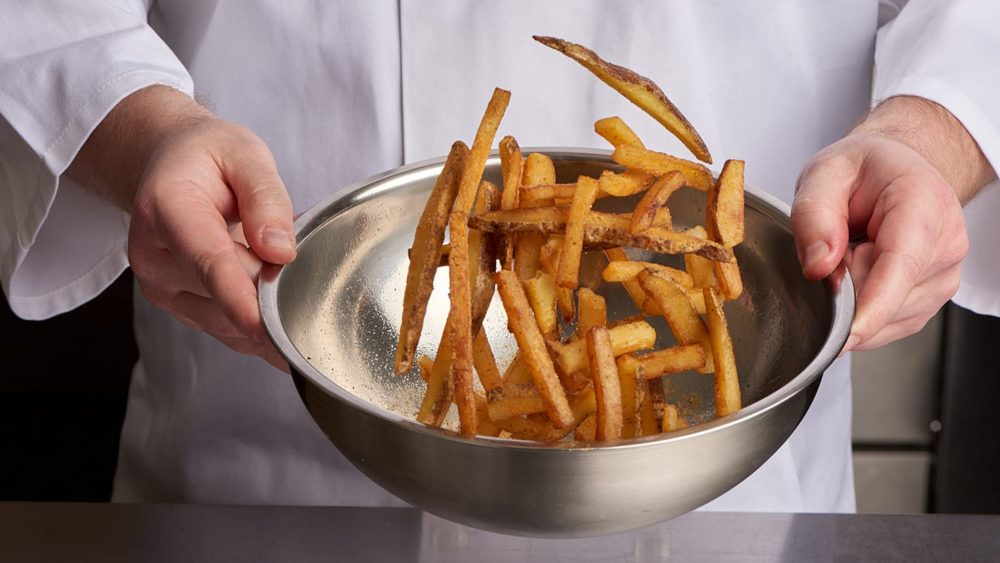 Across your menu, restaurant guests are looking for bold, interesting flavors. Give them the tastes they crave without adding gritty particulates that can compromise the texture of your recipes. New DairiConcepts® bulk foodservice seasoning blends are dairy-based, so they seamlessly blend into dishes, leaving nothing but flavor.
Versatile
Mix into sauces, spreads, dressings, drinks and dips. Or shake on as a dusting for fries and proteins.
Consistent
Manufactured with creamy dairy so the flavors melt into your recipe for smooth, consistent integration.
Clean
We're an ingredients supplier committed to using real ingredients, which means there aren't any "no-no's" on our labels.
Simple
Just mix in or shake on to instantly transform the flavor of existing dishes across your menu.
Want More Sauce Variety ¹
Quickly create a signature Sauce Sampler for fries, wings or cheese sticks by mixing 4 tsp. of your favorite DairiConcepts Seasoning into 8 oz. of mayonnaise, BBQ sauce, or pesto.
Want Spiced/Seasoned Fries ¹
Serve Chipotle BBQ Brisket Loaded Steak Fries by tossing hot fries in DairiConcepts Chipotle Chili BBQ Seasoning and topping with sauced brisket, Cotija cheese, scallions, red onion and Crema Mexican Agria.
Would Eat Out More If Breakfast Was Served All Day ²
Make their day with a Cheesy Chicken Waffle Melt, featuring buttermilk waffles layered with mayo mixed with DairiConcepts Cheddar Mac & Cheese Seasoning, sliced cheese, bacon, eggs and fried chicken tossed in DairiConcepts Cheddar Mac & Cheese Seasoning.
¹ 2018 Technomic, Left Side of the Menu ² Technomic, 2018
experience our dairy solutions.