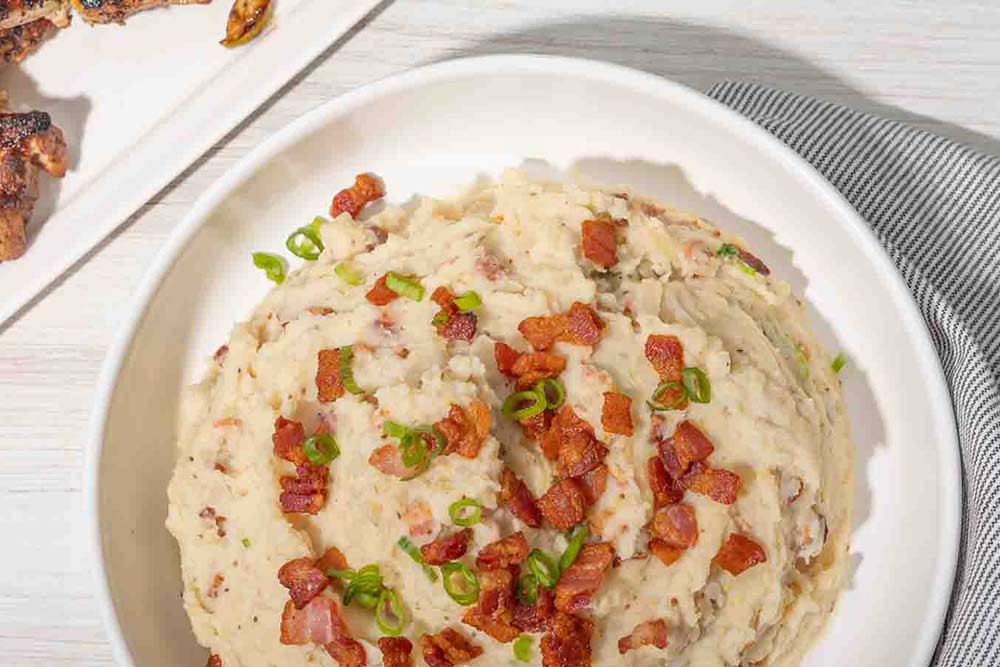 German-Inspired Mashed Potatoes with Bacon and Mustard
| | | |
| --- | --- | --- |
| Yield: 20-25 | | |
| INGREDIENTS | OUNCES | STANDARD |
| Russet Potatoes – peeled, cubed (1-inch thick) | 64 | 8 cups |
| Bacon – finely chopped | 8 | 1 cup |
| Onion – red, finely chopped | 2 | 1 cup |
| Apple cider vinegar | 1 | 2 Tbsp |
| Mustard – whole grain | 2 | 4 Tbsp |
| DFA Speed Scratch Potato Base | 14 | 1 3/4 cups |
Boil potatoes in a large pot of water until tender, about 20 minutes.

 

While potatoes boil, heat a large sauté pan over medium-high heat. Add chopped bacon and cook until crispy, stirring occasionally to avoid burning, about 6–8 minutes. Remove all but 2 Tbsp of the rendered fat from the pan. Add red onion and sauté until translucent. Add apple cider vinegar and whole grain mustard and simmer until liquid is absorbed, about 1–2 minutes.

 

Drain potatoes in a colander and shake off excess water. Mash potatoes as desired (mixer, ricer, masher, etc.)

 

Heat DFA Speed Scratch Potato Base in a small pot. Then, combine with the mashed potatoes and hot bacon and onion mixture. Serve immediately or hold for service.